52 Sustainability Ideation & Brainstorm Cards
Quickly generate radical and disruptive sustainability ideas for your innovation challenge.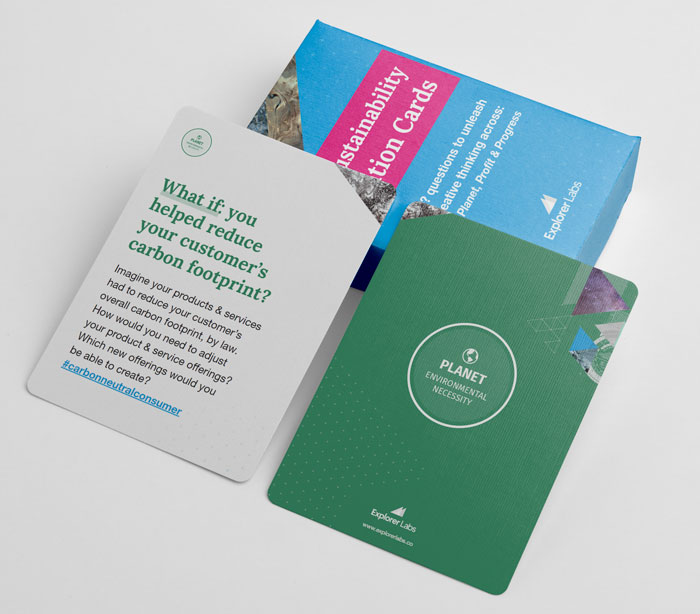 52 ideation what if cards to choose from
Each ideation card asks a thought provoking question with real world example
13 cards in each of the four categories: People, Planet, Profit & Progress
What do they do?
These cards help you quickly generate sustainability focused radical & disruptive business ideas to take forward & test with your key ecosystem stakeholders.
They help you think critically & creatively by asking questions from 4P sustainability lenses. People, Planet, Profit & Progress.
Enables you to generate radical & disruptive ideas, fast!
Take-in broader perspectives to trigger counter-intuitive ideas
Break-away from cognitive biases holding your creativity back
All our downloads are licensed under Creative Commons 4.0. Feel free to use them in your workshops, ideation sessions, design sprints, accelerators & coaching without modifying. Sharing — You may copy & redistribute. Attribution — You must give credit & indicate if changes were made.
Explorer Labs respects your privacy. We will only use your information to send your download and future updates on sustainable business innovation. You can manage your preferences at any time. Please see our Privacy Policy.

Also available on Miro for remote team collaboration
Use these sustainability ideation cards during the early stages of your innovation process when you have formulated your challenge how might we statement to solve.
You can also use these cards when you are entering into the business model innovation phase, when you need to challenge entrenched mindsets and concepts.
STEP 1
Assemble your corporate team or startup.
STEP 2
Place your sustainability challenge or How Might We statement at the center of your team.
STEP 3
Choose a random card & use it to challenge thinking & trigger new ideas.
STEP 4
Capture ALL ideas, both good & bad.
STEP 5 
Combine existing ideas to trigger further ideas & concepts.
STEP 6
Select most radical & disruptive ideas to take forward using silent dot-voting.
Get in touch!
TAILORED SOLUTIONS TO YOUR SUSTAINABLE BUSINESS CHALLENGES
Reach out to organize a quick call to discuss your innovation challenges and how we can help
We are committed to protecting and respecting your privacy. Please read our Privacy Policy. By clicking submit, you consent to allow us to store and process the personal information above to provide you the content you requested.