Lean Experiment Card Tool
Design an experiment for each of your critical leap-of-faith assumptions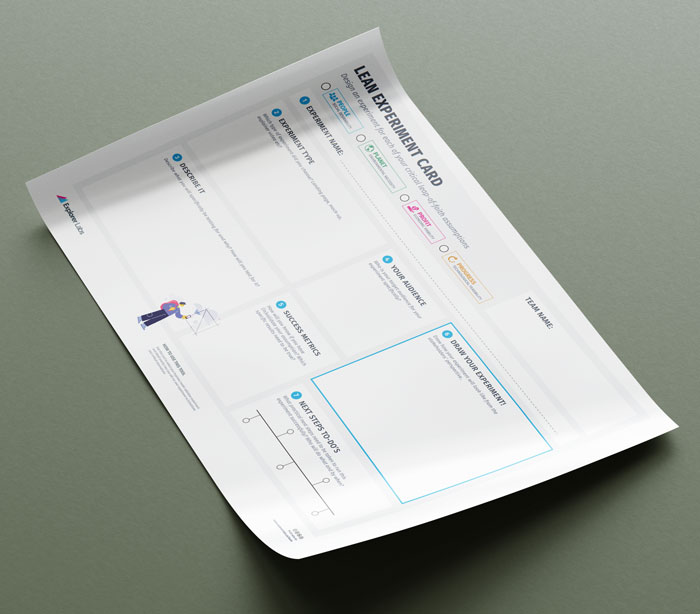 Focus on People, but also other key impact areas
Describe what you will test
Your target testing audience
Key success metrics and KPI's
Visual representation of what your experiment will look like
What does it do?
Allows you to figure out how and what you will specifically test a critical leap-of-faith (LOFA) assumption related to your key concept features. This is a pivotal tool in your Lean Startup process to help move from concept to validated learning evidence.
Define specifically how & what you will test for each assumption
Plan your success metrics clearly up-front
Visualize and operationalize your experiment execution
Explorer Labs respects your privacy. We will only use your information to send your download and future updates on sustainable business innovation. You can manage your preferences at any time. Please see our Privacy Policy.

Also available on Miro for remote team collaboration
Use this tool once you have defined your concept and have prioritized your key features from your customer or buyer's perspective.
Once you have defined your features and prioritized your critical assumptions, then you're ready to define experiments for each assumption.
Start with your customer, user and planet based assumptions to test first!
STEP 1
Use one experiment card per assumption to be tested.
STEP 2
See if you can combine several lean experiment cards together for your real world test.
STEP 3
Complete each part of the tool in as much detail as you can before you execute your experiments.
Get in touch!
TAILORED SOLUTIONS TO YOUR SUSTAINABLE BUSINESS CHALLENGES
Reach out to organize a quick call to discuss your innovation challenges and how we can help
We are committed to protecting and respecting your privacy. Please read our Privacy Policy. By clicking submit, you consent to allow us to store and process the personal information above to provide you the content you requested.