Mentoring & Coaching Mentee Guidebook
Keep track of your key insights & aha moments during your mentoring and coaching sessions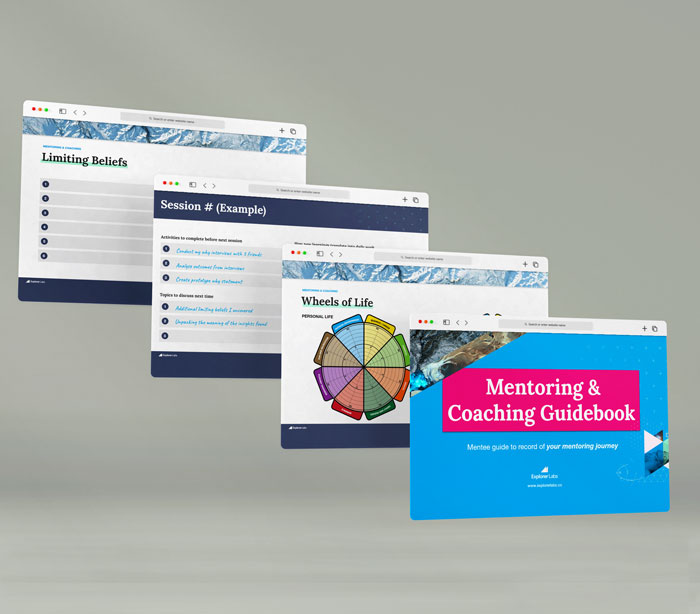 Map out your current baseline to work from
Capture key insights and learnings during each session
Structured tools and process to guide you on your mentoring journey
What does it do?
Allows you as a mentee to record and capture key learnings, insights and aha moments. Includes a number of example tools and frameworks to use throughout your mentoring process.
Keep a record of your mentoring process and journey
Capture insights on a per-session basis
Centralize your key learnings to refer to as needed
All our downloads are licensed under Creative Commons 4.0. Feel free to use them in your workshops, ideation sessions, design sprints, accelerators & coaching without modifying. Sharing — You may copy & redistribute. Attribution — You must give credit & indicate if changes were made.
Explorer Labs respects your privacy. We will only use your information to send your download and future updates on sustainable business innovation. You can manage your preferences at any time. Please see our Privacy Policy.

Also available on Miro for remote team collaboration
Use the mentoring and coaching guide when you start your mentoring or coaching journey. It can be hard to remember everything said and done within an intensive sessions. Many insights and key learnings will be shared, so it is important to be able to quickly note things down whilst they are still fresh in mind. This is why we created this guidebook.
STEP 1
Download the guidebook as soon as you're mentoring and coaching session kick-off has been completed.
STEP 2
Familiarize yourself with some of the tools and methodologies before you start 1:1 sessions with your mentor or coach.
STEP 3
Use the guidebook to digitally take notes after your mentoring or coaching session has been completed.
STEP 4
Make sure to capture down all your key insights, findings and aha moments right after your session is complete. It is easy to forget things if you go off and do something else.
STEP 5
Keep referring to your guidebook as you start to make impactful and meaningful changes to your life both personally and professionally.
Get in touch!
TAILORED SOLUTIONS TO YOUR SUSTAINABLE BUSINESS CHALLENGES
Reach out to organize a quick call to discuss your innovation challenges and how we can help
We are committed to protecting and respecting your privacy. Please read our Privacy Policy. By clicking submit, you consent to allow us to store and process the personal information above to provide you the content you requested.