New Concept Card Tool
Present your new idea as a concrete concept to explain & take forwards to test & (in)validate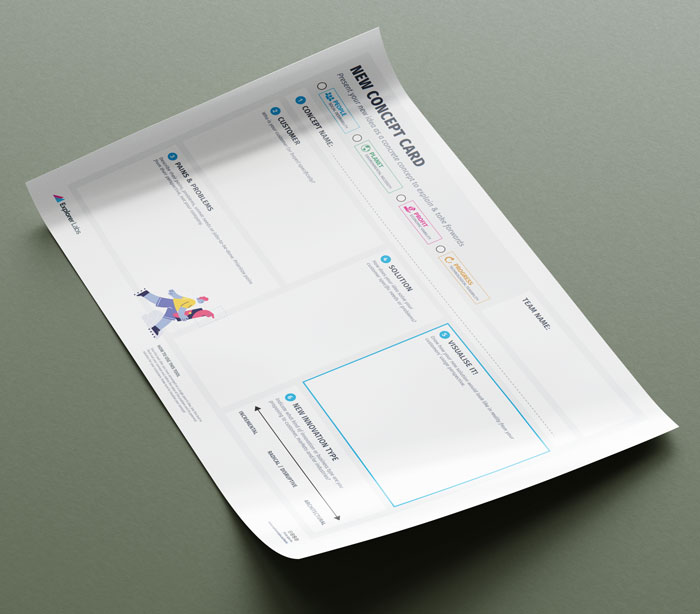 Define your key customers or stakeholders
Describe your customer pains & problems
Describe your concept solution features
Make a visual of your concept in reality
Define the innovation type
What does it do?
Allows you to move from the ideation phase into testing and prototyping with ease! Make a clear articulation of the customer or stakeholder value you're bringing with clear understanding of the solution features.
Helps you clearly articulate new ideas clearly & efficiently
Enables you to focus on your customer, user or stakeholder needs
Helps you quickly present ideas to stakeholders for feedback
Explorer Labs respects your privacy. We will only use your information to send your download and future updates on sustainable business innovation. You can manage your preferences at any time. Please see our Privacy Policy.

Also available on Miro for remote team collaboration
Use this important canvas once you have completed your ideation rounds.
Once you have narrowed down to the most interesting ideas, create a New Concept Card to allow you and the team to fully align on what new innovation you are proposing.
Use each step of the card to help you formulate your concept more clearly before moving into prototyping and testing.
STEP 1
Take your new idea post-its from your shortlisted items during ideation.
STEP 2
Go through each step of the canvas, entering in only the most essential and useful information #lessismore
STEP 3
Make sure you visualize your new concept from your customer or buyers point of view! This will help you when explaining your new idea to other teams, customers and stakeholders for critical feedback.
STEP 4
Spend some time considering the type of innovation you are proposing. How does it link back to corporate strategy exactly?
Get in touch!
TAILORED SOLUTIONS TO YOUR SUSTAINABLE BUSINESS CHALLENGES
Reach out to organize a quick call to discuss your innovation challenges and how we can help
We are committed to protecting and respecting your privacy. Please read our Privacy Policy. By clicking submit, you consent to allow us to store and process the personal information above to provide you the content you requested.