Stakeholder Interest Matrix Canvas
Identify and prioritize most important ecosystem stakeholders to engage in your sustainability or wicked problem initiative.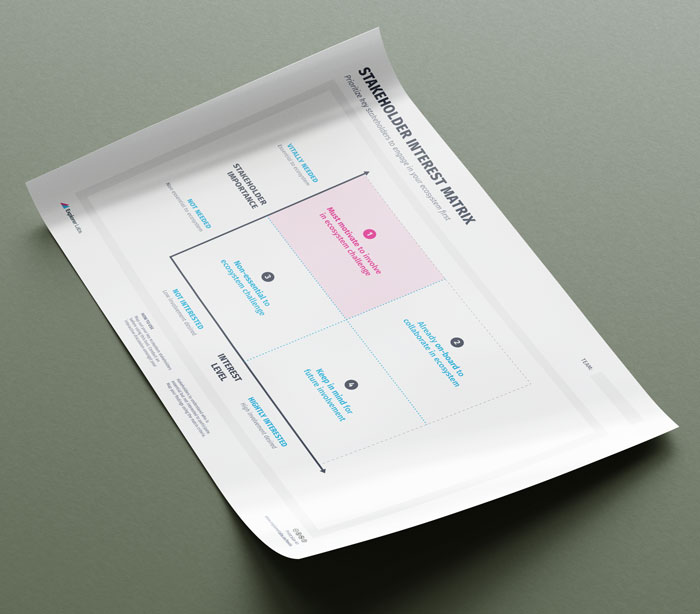 Not interested but highly vital stakeholders!
Not interested and not needed stakeholders
Highly interested, highly vital stakeholders
Not needed, but highly interested stakeholders
What does it do?
Understand and identify which ecosystem challenge stakeholders are most vital, but not interested to engage with your challenge domain. Helps you to figure out which stakeholders you must encourage and convince to be part of your sustainability challenge in order for it to succeed and drive positive impact on the world.
Conduct a critical discussion about your essential stakeholders
Identify stakeholders most essential to your challenge domain success
Uncover stakeholders who are not currently interested but vital to engage and onboard
All our downloads are licensed under Creative Commons 4.0. Feel free to use them in your workshops, ideation sessions, design sprints, accelerators & coaching without modifying. Sharing — You may copy & redistribute. Attribution — You must give credit & indicate if changes were made.
Explorer Labs respects your privacy. We will only use your information to send your download and future updates on sustainable business innovation. You can manage your preferences at any time. Please see our Privacy Policy.

Also available on Miro for remote team collaboration
Use this canvas after you have created your 'as is' stakeholder map for your specific challenge space or domain.
Once you have identified your key stakeholders, use this tool to help you prioritize and uncover the most important stakeholders to engage and involve in your challenge space.
You will then be able to identify the key stakeholders needed to drive impact and change, but who are not yet motivated to be involved. These are the stakeholders to focus on first, because without them, positive impact and outcomes will not be possible.
STEP 1
Create your ecosystem stakeholder map for your specific sustainability challenge domain before using this tool.
STEP 2
Use the matrix to prioritize your stakeholders. Think about whether your stakeholders are interested and/or vital to solving your sustainability challenge domain.
STEP 3
Stakeholders in the upper-left pink box are 'not interested, but vitally important' are the stakeholders that need to be onboarded to your challenge domain.
Hint: use the Ecosystem Stakeholder Empathy Map tool to help you figure out what could be blocking your stakeholder from engaging in your challenge space.
Get in touch!
TAILORED SOLUTIONS TO YOUR SUSTAINABLE BUSINESS CHALLENGES
Reach out to organize a quick call to discuss your innovation challenges and how we can help
We are committed to protecting and respecting your privacy. Please read our Privacy Policy. By clicking submit, you consent to allow us to store and process the personal information above to provide you the content you requested.