Sustainable Value Proposition Canvas
Quickly create a compelling value proposition statement for your key sustainability focused stakeholders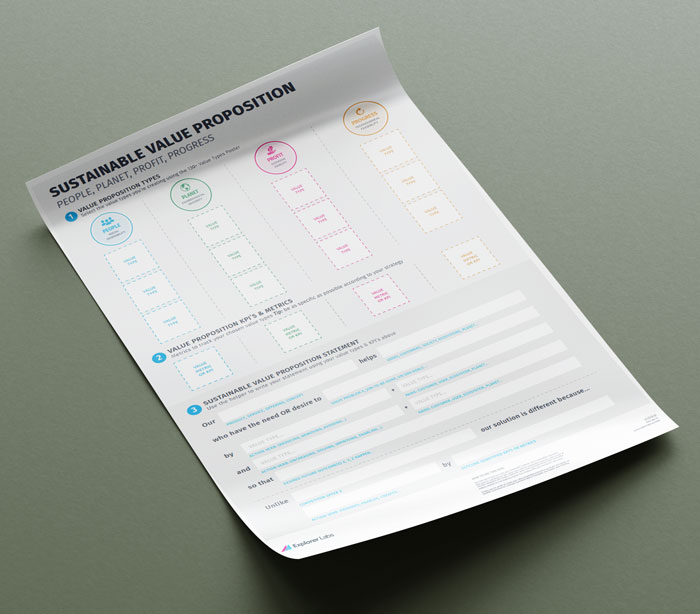 Write down the value types (People, Planet, Profit, Progress) within your concept and/or business model
Translate your value types into a concise value proposition statement using the ad-lib
Use this example value proposition statement to get you started to refine your own
What does it do?
Helps you articulate and translate the value being created within your new sustainability business or innovation concept. This tool will help you structure the value being created, alongside the KPI's and metrics you will use in order to quantify your value impact.
Construct clear value proposition statements for sustainable business concepts
Incorporate KPI's and metrics into your value proposition statements
Design your value proposition through the use of a simple ad-lib helper
All our downloads are licensed under Creative Commons 4.0. Feel free to use them in your workshops, ideation sessions, design sprints, accelerators & coaching without modifying. Sharing — You may copy & redistribute. Attribution — You must give credit & indicate if changes were made.
Explorer Labs respects your privacy. We will only use your information to send your download and future updates on sustainable business innovation. You can manage your preferences at any time. Please see our Privacy Policy.

Also available on Miro for remote team collaboration
Use the Sustainable Value Proposition Canvas after you have run the ideation process. You should already have a concept in mind before you start to consider the value types being created across People, Planet, Profit & Purpose dimensions.
You can also use this tool after you have created a new prototype business model for a new sustainable business concept.
This tool is best used when you need to think more abstractly about the value you're creating alongside the KPI's and metrics you will put in place to track your progress towards impact.
STEP 1
Use the 130+ Value Types Wheel tool to help you figure out what value types you're creating across People, Planet, Profit & Purpose.
STEP 2
Write down the value types you're creating in the boxes at the top of this tool.
STEP 3
Think about the key performance indicators (KPI's) and metrics you will need to keep track of to show your progress as you deliver impact.
STEP 4
Use the ad-lib helper to create your value proposition statement. Tip: you may need to split your team in two so that you have several versions to refine and edit into a single statement.
Get in touch!
TAILORED SOLUTIONS TO YOUR SUSTAINABLE BUSINESS CHALLENGES
Reach out to organize a quick call to discuss your innovation challenges and how we can help
We are committed to protecting and respecting your privacy. Please read our Privacy Policy. By clicking submit, you consent to allow us to store and process the personal information above to provide you the content you requested.