The Little Black Book of 28+ Sustainability Cognitive Biases
Learn how to identify & mitigate 28+ sustainability related innovation cognitive biases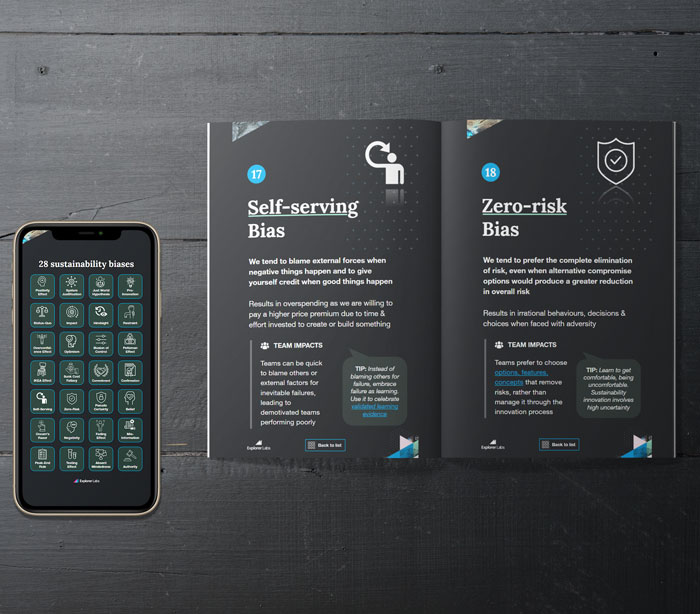 Interactive PDF book to quickly navigate between biases during workshops & sessions
Each bias type easy to find
Brief discussion on how this bias impacts innovation & business design outcomes
Tips & tricks on how to mitigate & minimise bias impacts on intended outcomes
What does it do?
Your handy personal book & team guide to 28+ of the most influential cognitive biases impacting your chances of delivering sustainability innovation & business outcomes the world needs.
Learn which sustainability biases are at play
Quickly refer to biases as they emerge to mitigate impacts
Easy to use & simple to read personal biases smartphone handbook
Explorer Labs respects your privacy. We will only use your information to send your download and future updates on sustainable business innovation. You can manage your preferences at any time. Please see our Privacy Policy.

Also available on Miro for remote team collaboration
Use this little black book on your smartphone whenever you are undertaking the innovation process.
Use it when in workshops, ideation sessions, business modelling, technology provisioning, about to pitch, doing lean startup experiments and more.
These subconscious biases highlighted and explained in this book can come into play throughout the innovation process. This is why they are so important to keep in check #maketheunconsciousconscious
STEP 1
Simply download our FREE little black book PDF on your smartphone, laptop, computer or tablet to refer to.
STEP 2
Familiarize yourself and your full innovation team with each of the 28+ sustainability cognitive biases detailed.
STEP 3
Learn the six simple steps in how to mitigate the impacts of unconscious sustainability related cognitive biases on page 8.
STEP 4
Keep monitoring how unconscious biases are impacting your innovation process at each stage. Consciously spot them and call them out so that you can mitigate their impacts as a team in order to de-risk your innovation process as much as possible.
Get in touch!
TAILORED SOLUTIONS TO YOUR SUSTAINABLE BUSINESS CHALLENGES
Reach out to organize a quick call to discuss your innovation challenges and how we can help
We are committed to protecting and respecting your privacy. Please read our Privacy Policy. By clicking submit, you consent to allow us to store and process the personal information above to provide you the content you requested.