Future of Innovation Poster
Inspire teams to think more broadly of innovation across People, Planet, Profit & Progress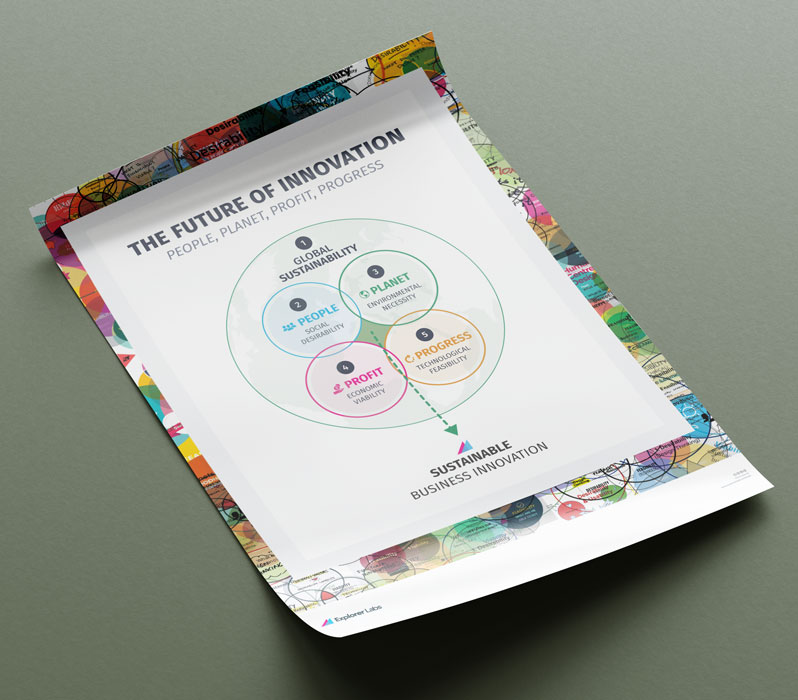 Focus on People, but also other key impact areas
Consider Planet as an equally important dimension
Profit is essential to make the innovation viable
Progress is made through new technologies
What does it do?
Re-frame your innovation team thinking to focus across People, Planet, Profit and Purpose dimensions. Being customer-centric is not enough by itself. We need to ensure our innovation efforts deliver on all four dimensions.
Help your teams go beyond customer-centric thinking
Reflect on the wider impacts innovation can bring
Reframe the logic of innovation in a simple visual way
All our downloads are licensed under Creative Commons 4.0. Feel free to use them in your workshops, ideation sessions, design sprints, accelerators & coaching without modifying. Sharing — You may copy & redistribute. Attribution — You must give credit & indicate if changes were made.
Explorer Labs respects your privacy. We will only use your information to send your download and future updates on sustainable business innovation. You can manage your preferences at any time. Please see our Privacy Policy.

Also available on Miro for remote team collaboration
Use this poster when you are framing new sustainable business innovation projects. It is highly useful to challenge the Design Thinking triad: Customer Desirability, Business Viability, Technological Feasibility.
Today's World faces much bigger and broader challenges than just customer-centricity alone. This poster helps you to reflect on the wider systemic and ecosystem-level challenges ahead of us.
Trigger a critical debate within your teams as to how the innovation process needs to be run.
STEP 1
Stick up the poster in your workshops or if working remotely on your collaboration software (Miro, Mural, Jam Boards etc).
STEP 2
Use the poster as a warm-up to challenge how the innovation process is currently run with regard to the poster and how it should be run in the future (it can be printed A2+ or use digitally to save on prints).
STEP 3
Seek critical perspectives about the four stages of the innovation process (People, Planet, Profit, Progress) and consider which methodologies you typically use for each stage.
Get in touch!
TAILORED SOLUTIONS TO YOUR SUSTAINABLE BUSINESS CHALLENGES
Reach out to organize a quick call to discuss your innovation challenges and how we can help
We are committed to protecting and respecting your privacy. Please read our Privacy Policy. By clicking submit, you consent to allow us to store and process the personal information above to provide you the content you requested.