130+ Value Proposition Types
Explore all the different value types across People, Planet, Profit & Progress in one place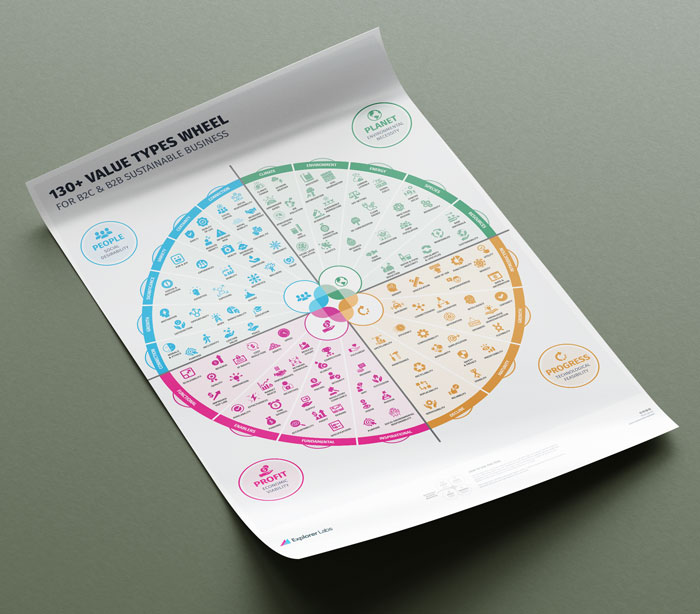 Understand your individual People value types
Figure out which Planet value types your delivering
Your business model Profit value types
Your technological Progress value types being created
What does it do?
Your single reference point for all the ways in which you can deliver value to your stakeholders across People, Planet, Profit and Progress. This tool helps you think broadly about the type of value possible within new concepts or business models.
Understand all value types new innovation
Easy to find under sub-categories
Suitable for all types of sustainable business innovation projects
All our downloads are licensed under Creative Commons 4.0. Feel free to use them in your workshops, ideation sessions, design sprints, accelerators & coaching without modifying. Sharing — You may copy & redistribute. Attribution — You must give credit & indicate if changes were made.
Explorer Labs respects your privacy. We will only use your information to send your download and future updates on sustainable business innovation. You can manage your preferences at any time. Please see our Privacy Policy.

Also available on Miro for remote team collaboration
You should use this poster tool once you have gone through the ideation process during an innovation cycle. You should already have a clear concept card completed or prototype business model in place. Once defined, use this poster tool to help you figure out what 'value' you intend to deliver to your stakeholders.
Remember, you need to forget about your amazing features and technologies! You should focus on the more abstract value your concept or business model brings to your stakeholder ecosystems.
STEP 1
Review each of the sub-categories within People, Planet, Purpose and Profit quadrants.
STEP 2
Choose a maximum of three value types per quadrant, so you have no more than 12 in total for your new sustainable innovation concept or business model.
STEP 3
Use the Sustainable Value Proposition Canvas to help you craft a concise elevator pitch of the value you are bringing to your ecosystem stakeholders.
Get in touch!
TAILORED SOLUTIONS TO YOUR SUSTAINABLE BUSINESS CHALLENGES
Reach out to organize a quick call to discuss your innovation challenges and how we can help
We are committed to protecting and respecting your privacy. Please read our Privacy Policy. By clicking submit, you consent to allow us to store and process the personal information above to provide you the content you requested.