44 Lean Startup Experiments Cheat Sheet
Quick overview of Lean Startup experiments to run on your critical assumptions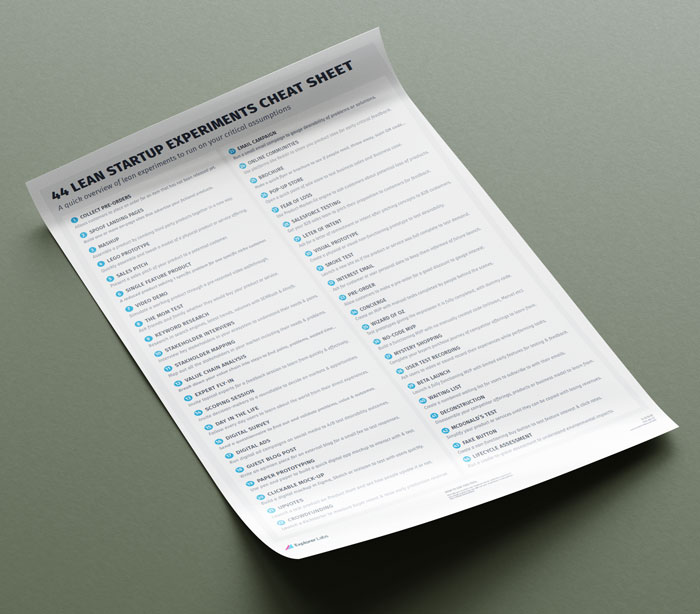 44 most commonly used Lean Startup experiments to refer to
Simple explanations detailing each experiment type to run
What does it do?
Gives you a quick overview of the most commonly used Lean Startup Experiment types to run.
Allows you to quickly read an overview of all your experimentation types to apply to your most critical leap-of-faith assumptions within your features and concepts.
Quickly and easily refer to your experimentation options
Choose the right experiment for your assumptions types
Consider & choose the right sustainability experiment, fast!
Explorer Labs respects your privacy. We will only use your information to send your download and future updates on sustainable business innovation. You can manage your preferences at any time. Please see our Privacy Policy.

Also available on Miro for remote team collaboration
Use this cheat sheet once you have created Lean Experiment Cards for each of your critical assumptions within your New Concepts.
This tool is very useful to get a quick overview of your experiment types after you've gone through the ideation and new concept refinement phases, either in an innovation cycle or Innovation Design Sprint.
STEP 1
As a team, review the entire experimentation cheat sheet in pairs.
STEP 2
Shortlist 5 or 6 experiment types, suitable to apply to your specific critical assumptions.
STEP 3
Discuss if you can combine several assumptions into a single experiment type.
Get in touch!
TAILORED SOLUTIONS TO YOUR SUSTAINABLE BUSINESS CHALLENGES
Reach out to organize a quick call to discuss your innovation challenges and how we can help
We are committed to protecting and respecting your privacy. Please read our Privacy Policy. By clicking submit, you consent to allow us to store and process the personal information above to provide you the content you requested.